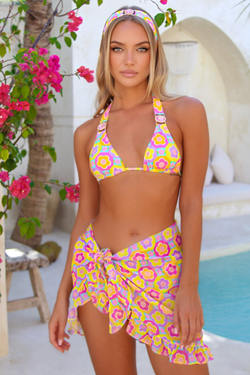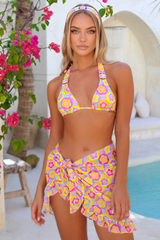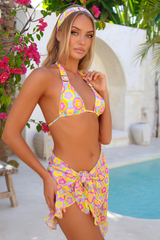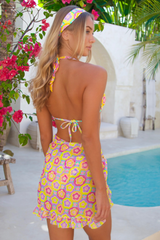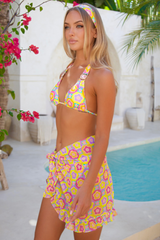 Take it back now y'all, its time to get funky! We're taking it all the way back to the summer of '67, where all that we cared about was peace and love! Just like today, everyone deserves to be loved for who they are, and the summer of '67 was just about that and has inspired this 'Summer of Love' collection.
A summer that seems to last forever, those would be the best days of our lives and we would love to spend all of them in these hippie prints. 'Forget Me Not' is a pastel blend that sends us into a world of our dreams! Its the perfect array of colours for a summer we never want to end!
PLEASE NOTE : We strive to waste the least amount of fabric that we can! For this we use the same roll of fabric to cut as many pieces as possible. Print may vary between sarongs.
FIT NOTES
Plain Design
Ruffle Edging Detail

Chiffon Fabric
Tie Fastening
FABRIC COMPOSITION
100% Polyester
WEIGHT
Sarong approx. 62g
DELIVERY & RETURNS
Babe, you got options.. There are endless ways to get your pink parcel from A TO B. From last minute plans to a super organised holiday shopping spree, your Moda Minx order will be at your door right on time.

Click here for all delivery options
IF IT'S NOT A MATCH MADE IN HEAVEN FOLLOW THE GUIDANCE ON RETURN HERE
Please check our REFUND page here prior to purchasing and make sure your item is eligible for a refund.
QUESTIONS
How can we help babe?
We are always here to assist.
Email: help@modaminx.com
Available Mon-Fri 9am - 5pm
WASHING & CARE 
Unlike other garments, your Moda Minx clothing needs you to get a little more hands on when washing. It'll make you love them more, promise!
For my guidance follow our care instructions: CARE INSTRUCTIONS
PRODUCT CODE
SKU: SOLSS445-OS